The Celebrity Edge brings a new philosophy to the leisure cruise industry.
"You can't erase a bad vacation! So, let's start out by not having one!"
On Dec 4th 2018 I boarded the Celebrity Edge at Ft Lauderdale's Port Everglades for a two-night inaugural sailing for retail agents and the travel industry press corp.
If you've never cruised before, then I'll tell you that the Edge brings new capabilities and re-imagined spaces to the open seas. Her color palette of taupe and gray offer an upscale feeling that's decidedly more "peaceful" than black, white and chrome.
I chose to show you this picture of (what will be the first of four, Edge Class ships) because it gives you a view of three key benefits to her new design. First of all, please understand that no cruise ship has ever more meticulously designed by an assembled team of professionals from both inside and outside the cruise industry. The amount of collaboration between designers and engineers on the Edge project was unprecedented. And, the result will be an enhanced vacation experience for you on a vessel that elevates the philosophy of the Celebrity Company; great destinations, thoughtful design, a culinary experience second to none, forward-thinking accommodations, and personalized service.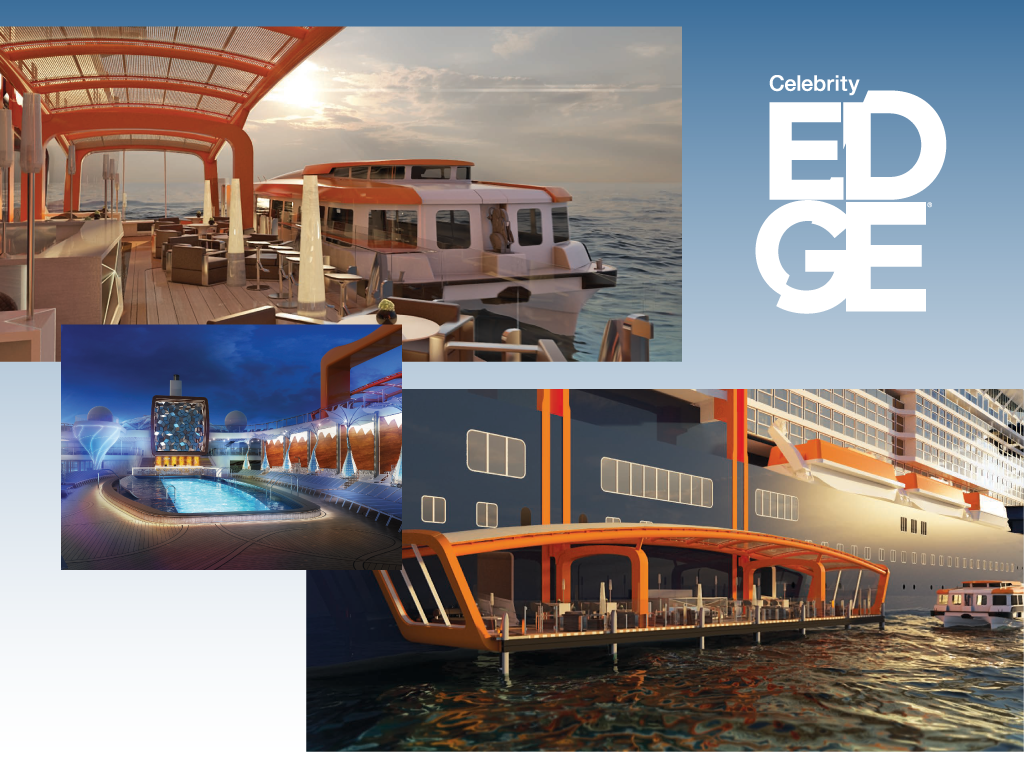 Now, let's get back to the three key features/benefits I was talking about in the picture above. If you have cruised before, then you already know that the very back of the ship is usually kept uncovered as a promenade deck, enclosed to make a restaurant or kept exclusive for suite guests with their own swimming pool. Not on the Edge. The rear section; three decks of the ship, were purposely finished open with just a railing. Then, the entire area was enclosed under a large glass dome. It is called the Garden of Eden. You walk into the dome and you're immediately bathed in natural light; you feel the openness. Walk a little further to the railing and there it is…the contrail of the ship. Wow…you are sailing away.  Good bye world! "I'm on this big beautiful ship leaving everything behind and destined for a new adventure". Seriously, the "Garden" is the only place on a ship I've experienced that transformative feeling.
"…That is the Edge, Magic Carpet; an open-air platform that moves up and down like an elevator and stops on specific decks."
~STEVE LORD
Second; What are those orange rails running up and down the side of the ship? That is the Edge, Magic Carpet; an open-air platform that moves up and down like an elevator and stops on specific decks. The Magic Carpet is an engineering innovation and while it can serve as an "al fresco" restaurant or a lounge…it's most important utility is to get more people on and off the ship, faster. You see, ever since contemporary cruise ships became so large, guests have had to endure waiting in line just to embark tender boats on the way to their shore excursions. That's no longer a problem on the Edge. The Magic Carpet platform can be lowered to the level of the water. Celebrity built tender boats for the Edge that are twice as large and two of them can attach to the MC front to back.
Finally; (and this is my favorite Edge innovation) Celebrity set a new standard in balcony ocean view cabins when they developed the Infinite Verandah. Look at how smooth the "skin" of the ship appears. That's because from deck 6 to deck 12 you will find ocean view cabins and suites with an innovative floor to ceiling window that has servo motors which allow you to slide the top glass panel up and down; closed to enlarge your room or open so that it's like a balcony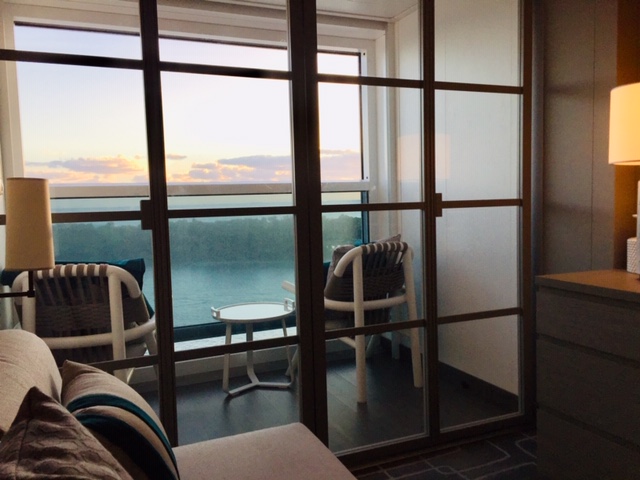 Steve Lord
Travel Advisor & Blogger
We're in Good Company!
Check out our ad on Pg. 13 of the January 2019 Edition Bravo…Lakewood Arts & Entertainment Magazine!