" Sometimes when you travel, you find things you didn't know you were looking for."
Yalla Bin-a, my friends!
Means: "Let's go" in Arabic.
This was the affectionate "call to action" used each day by our tour guide, Khaled Lotfy, whom we met on our trip to Egypt April 27th to May 6th, 2019 with the Collette tour company. We had an incredible time!
What you're about to read is the story of Jeff and Steve's 10-day, fun-filled trip to Egypt, a history-rich country on the African continent wedged between the great Sahara Dessert and the Red Sea. It was a trip filled with intriguing stories and some of the friendliest people I've ever met traveling the world…(not to mention the fact that they were genuinely happy to see Americans vacationing in their country).
***But, I would like to start-out by offering you one piece of advice; when you come to Egypt, make sure you're in pretty good shape. If you need hip or knee surgery, get it done before you go. To see the antiquities, you'll be walking on uneven surfaces and climbing lots of stairs. Chances are good, Egypt is a bucket-list trip for you and you'll want to see as much as you can while you're there.
"Our flight from the US landed late, into Cairo on April 28th...
We routed through London (which was nine hours from Denver) followed by another five-hour flight on Egypt's national airline.
US citizens can travel to Egypt on a valid Passport that (1) will not expire until 6 months beyond your return date, and (2) has at least two blank pages in it for the mandatory Visa you can purchase ETA, online or immediately upon landing in the destination. Naturally, your name on your airline ticket must match your name on your Passport.".
~STEVE LORD
The best time to visit Egypt is October to April. This is Winter; and the months when daytime highs top-out in the low 90's. Starting in May, however, (and extending thru September), high temps can soar well past 110 degrees Fahrenheit. Thank God for air-conditioned buses. It's just too hot to visit any of the archeological sites from May thru September. The only place you can visit during the Summer is one of the beach resorts in the Sinai, such as Sharm el Sheikh. I understand they have great scuba diving in the Red Sea.
Do not drink tap water in Egypt (and that goes for ice cubes as well). This is a hot, dry climate. Light and loose-fitting clothes can be worn year-round. This will aid evaporation, your body's only method of trying to keep you cool. Therefore, when in destination, drink a lot of bottled water; 90-120 ounces a day are recommended. This is super-important.
There is more security in Egypt than you can imagine. With the exception of an infrequent, terrorist attack (which by the way, has never been carried out by an Egyptian), personal gun ownership is strict and theft is at an all-time low. In many respects, they are "out in front" of radicalized political situations so the destination is safe. And once again, they like Americans.
25 million people live in the present-day capitol city of Egypt; Cairo. And, while we saw one rundown apartment building after another (by our standards), Egyptians are not homeless and they are not hooked on drugs or alcohol. They are the working poor. In fact, the government will provide each citizen with a basic monthly income (albeit small) but to get it you must prove you have a job. If not, they will find you a job. The Egyptian economy is growing at 2.5 to 3.2% a year so they need people to work. There's a local saying our guide Khaled shared with us, "like what you do until you can do what you like". The only thing I would fault the Egyptian people for is their trash; they need to clean up after themselves. I did not ask Khaled if his government "falls short" when it came to providing trash removal. But, he feels education is the key and that children who are 6-10 years of age today…are getting a better education and will help improve Egyptian life for everyone in years to come. I respect that point of view. I remember the campaign we had in the States during the 60's that said, "don't be a litter bug" And it worked!
Next, you will find a description of the "day by day" itinerary that Jeff and I followed. It is called The Treasures of Egypt and is a fully-guided tour offered by the US owned, tour company called Collette. Our guide and all our transportation, lodging and admission tickets were pre-arranged. Guided vacations are efficient…leaving you to simply "absorb" a ton of information in a short amount of time. Which is why we were there, for sure.
Monday, April 29th
Our flight arrived late on Sunday night. On top of that, we had an early wake-up call on Monday morning. The Kempinski hotel downtown is where we stayed. I was told is it exquisitely located close to shops and restaurants. But, we did not see them. By 6am, we were back on the bus munching down a box breakfast on our way back to the airport. Apparently, we'd be coming back to Cairo later. Our journey was to begin in Luxor, a city one-hour (400 miles) south of Cairo.  I like this picture Jeff took because it shows the scale of the Temple of Luxor. I'm 500 ft in front of the temple entrance! Luxor was the capital city of Egypt 3000 years ago. Today, it is a city of 1.2 million people and home to two of the great temples Rameses II built during his reign, The Temple of Luxor and the Temple of Karnak. Luxor is also where we boarded our Nile River cruise ship, the Movenpick Royal Lily. So, our first day unfolded like this: (1) we flew from Cairo to Luxor (2) we toured the Luxor Temple (3) we then boarded our ship for a late lunch and a quick nap. Then after sunset (4) we visited the Temple at Karnak for a "light & sound" show depicting this period in history. Thinking on behalf of my clients, I was relieved to learn that our tour was "accelerated" because we were a group of travel agents. My clients can expect to have a more leisurely pace on their tour of Egypt.
Tuesday, April 30th
Our cruise ship stayed docked in Luxor overnight and we disembarked the next day for a morning tour of the Valley of The Kings. The story goes like this; at a point 3000 years ago, the Capitol of Egypt was moved to Luxor and the Pharaohs attempted to put an end to the looting of their sacred burial sites. The ones they had previously built; the Pyramids. So, they started burying themselves in underground chambers. When the capital city was moved to Luxor, the temples were built on the east bank of the Nile and the tombs were built on the west bank of the Nile. The east bank became known as The Valley of the Kings. From the outside, the tombs looked like nothing more than hills of rock and sand, meant to throw tomb-raiders "off track". Of course, that only worked for a few hundred years. 62 tombs in all have been discovered (and raided) over the last 2,000 years. The last tomb to be discovered was that of the young, King Tut. The year was 1922. The discovery was made by a persistent Egyptologist named Howard Carter. Rightfully, Howard Carter shares the credit for his discovery with the Frenchman Jean-Francois Champollion (1790-1932) who (one hundred years prior) had deciphered the Egyptian writing called hieroglyphics. The Valley of the Kings is not to be missed!
Wednesday, May 1st
Our cruise ship set sail Tuesday night and by Wednesday morning, we were calling on the village of Edfu. Edfu is where we find the Temple of Horus. There are 10 Gods in ancient Egyptian mythology. Horus was the son of Osiris and Isis.
We took a local taxi between the ship and the temple. The taxi was a horse-drawn carriage; both novel and exhilarating! Reasonably priced, and It adds to your vacation experience when you're "holding on for dear life"! But I found it a lot of fun. By lunchtime, we were back on board the Royal Lily and heading to the Temple of Kom Ombo. We enjoyed a sumptuous meal and a relaxing evening on board the ship as she sailed into the city of Aswan.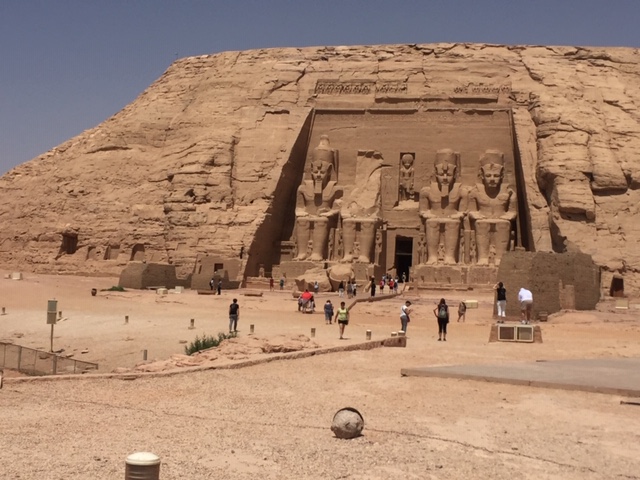 Thursday, May 2nd
Aswan is home to 1.5 million residents. We had an early wake-up call and after breakfast flew on Egypt Air to the village of Abu Simbel. This village exists purely to support the tourism trade that the Temple and the Aswan Dam/Nasser Lake bring to the region. The pharaoh Rameses II built the Temple at Abu Simbel (plus a smaller one to his principal wife, Nefartari) to impress upon the Nubian people (inhabiting the territory near the border with Sudan) that he, Rameses the Great, as their ruler.
Did you know that in the early 1960s…the building of the Aswan Dam submerged the original site of the temple at Abu Simbel? With the support of UNESCO, the Egyptian Government set about moving the entire temple block by block, 150 Ft up and 600 Ft back from its original location where Rameses II built it.
Later this afternoon, we flew back to where our ship was docked in Aswan and take a traditional Felucca boat ride to the only botanical gardens in the city. The botanical gardens are located on an island, set inside the Nile river. From the gardens you can see the eastern edge of the Great Sahara Dessert. The high temperature in the city reached 109 degrees this day but it had to be 20 degrees cooler under the canopy of trees at the gardens.
This evening on board our ship, we enjoyed a myriad of local dishes followed by an Egyptian Galabeya Party. We all dressed up in traditional Egyptian clothing and danced to local music. Our group loved it!
Friday, May 3rd
We packed our luggage and said good-bye to the staff of the Royal Lily and moved into the Movenpick Resort Hotel in Aswan. Our next stop on the tour was to the Temple Philae.  This temple was built in 690 AD to honor the goddess Isis. It is considered the last of the temples to be constructed in the ancient Egyptian architectural style. It is the safe house of the historic hieroglyphic depiction of Isis receiving the breath of life (which is the impregnation and birth of her son Horus). According to Egyptian Mythology, this occurred thousands of years before the Christian depiction of the immaculate conception of the Virgin Mary and the subsequent birth of our Lord, Jesus Christ. Interesting, huh?
Saturday, May 4th
We spent a restful night at the Movenpick hotel and awoke to take a 90-minute flight from Aswan back to Cairo. Our journey was coming to an end, but Collette had saved the first part of Egyptian history…till the end of our trip. We were now, finally going to see the iconic Pyramids of Egypt!
To date, Egypt has uncovered 124 Pyramids, of various size. The oldest one, the "Step Pyramid", is the first stacked-stone structure in history. "Step" is the "chalk-board of pyramids; where the engineers of these great structures worked-out their mathematical calculations and their building techniques BEFORE trying to sell the pyramid-tomb design idea to the pharaohs. Amazing!  We were standing at Memphis (just outside Cairo) where it all began, 5200 years ago!
This evening, we checked into the Intercontinental Citystars Hotel for the final two nights of our 10-day trip. Attached to the hotel is a huge 6 floor shopping mall. We had the night off to see how local city Egyptians live and play. It was fascinating. You would have thought we were at the Mall of America. There were young people with cell phones, laughing with friends, carrying shopping bags, pushing strollers and eating American brand fast food at the mall's food court. Uniformed security officers maintained an understated presence. But there was no discounting the fact that Egypt has an open society just like ours in the US. This was eye-opening!
"Sunday, May 5th
was our last full day in Egypt...
At this point (thanks to our guide, Khaled) I am feeling incredibly "up" on both the ancient history and modern culture of Egypt. I feel like we've been given enough information for three college-level courses. Our bus driver is heading outside the city and all of a sudden takes a left turn off the highway. Wham! There it is, right in front of us; The Great Pyramid of Giza. OMG! This is what we all came to see and here it is; straight off the cover of National Geographic".
~STEVE LORD
The trip has come full-circle for me and…during what has been a "time machine" of a week. I am humbled by the feeling of how small my hundred (or so) years on the planet, feels in comparison to the thousands of years of human history I've seen this week.
After we climbed inside the Great Pyramid of Giza, Collette had arranged for us to meet the Director of the site Excavation Team. How incredible for us to have an audience with two such learned people.  
Our trip to Egypt has been the most enriching vacation experience we've ever had. At this point, we felt like kings and there was only one thing left to do… What the heck, we're feeling immortal!
If you're interested in Egypt, I'd love to talk to you!
SHOCRUM!
(That means "Thank You", in Arabic)
Steve & Jeff
Steve Lord
Travel Advisor & Blogger
We're in Good Company!
Check out our ad on Pg. 13 of the January 2019 Edition Bravo…Lakewood Arts & Entertainment Magazine!