Never Met a Kiwi I Didn't Like.
"Travel, the only thing you can buy that makes you Richer"
Hi Fellow Travelers! Thank you for tuning-in to read about our journey to the north island of New Zealand, June 8 to 16, 2018. We hope you enjoy this story and will send any questions you might have about the north island directly to me at Steve@All-InclusiveVacations.com
On June 6th, Jeff and I flew non-stop from Los Angeles CA. to Auckland NZ. We packed four hotel stops and 10 activities into an eight-day Itinerary that barely scratched the surface of what you can do in this destination. New Zealand is the size of California but with 1/10 the population, just 4 ½ million. Tourism has now "bested" farming, fishing and wood processing as the country's number one employer. And fortunately for us… New Zealanders like Americans!You don't need a Visa (just a valid US Passport), there is no language barrier and you can drink the water throughout the country.
Hospitality standards are the same as other 1st World countries and there is an accommodation style and price-point for everyone's taste.  All you need is a Passport, your health insurance card and an adapter for their wall sockets.
Kiwi's say come, and I wonder why it's taken us so long!
Our flight from LAX to AUK took 12 hours. In comparison, Hawaii takes 5 and a half hours and Tahiti takes 9. But to reach New Zealand (and Fiji and Australia for that matter), you cross the International Date Line. This means you lose a full day of your vacation…before it even gets started. I know I just lost some of you…right there. The typical week vacation takes 9 days…because you fly overnight and lose a full 24 hours on the front-end. Therefore, New Zealand is not a long weekend getaway.
The national airline "Air New Zealand", does a fantastic job with service and comfort, even in the coach cabin. Their Boeing 777 aircraft have 3, 4 and 3 seats across. Pay the upgrade fee and a family of three (or a couple) can have what's called a Sky Couch. With the Sky Couch, you will get all 3 of the seats (on either side of the airplane), and it becomes a make-shift bed. It's a little cramped but can allow one of you to lie over three seats and get some good sleep during that 12 hours on board. The reason this makes sense is because the flight to New Zealand leaves LA in the evening; at a time when you're naturally ready to go to bed anyway.
US flights land in Auckland,which is located on the north island. And while not the capital city, Auckland is the country's largest city, boasting 1.8 million of the country's 4.5 million citizens. If you've been to downtown Seattle, then you already have a good idea of the layout of downtown Auckland. It is built on a hill…next to a gorgeous harbor where ferry boats and yachts come and go all day long. American-branded cruise ships pick up and deposit guests in Auckland during the Summer months. Remember, because of the tilt of the Earth…Summer in the southern hemisphere (New Zealand, Australia and South America) is December through March; opposite to what we're used to here in the United States. Winter is June thru August. That's when New Zealand gets most of its rain, which keeps it very green!
We found Auckland to be clean, pedestrian-friendly and safe. Our hotel sat atop the hill at Sky City. Sky City is a landmark in downtown Auckland complete with a tower (just like the Seattle space needle), casino, hotel and a brand, new convention center. It's the perfect location, with green belts to the north (Albert Park) and south (Victoria Park) and shopping and dining options all around. Countdown is the name of the local grocery store chain and there is one located two blocks from Sky City hotel. If you want, you can pick up some deli foods and enjoy a relaxing picnic in the park as an alternative to dining out every meal. Our hotel room had a mini refrigerator and a "hot pot" which not only makes a cup of instant coffee but turns a bag of Ramon into lunch! Auckland even has Starbucks, though not the original one which (you guessed it), is in Seattle.
Into the countryside, June 10-13, 2018 New Zealand's North Island
We rented a car from Avis, which has an office just two blocks from the Sky City hotel. We picked up our rental and set out on Highway #1 heading south of Auckland to the town of Rotorua. And this is when our journey got daring!
Years ago New Zealand was a British Colony. Therefore, New Zealanders drive on the left side of the road. I won't lie to you…this takes some getting used to. Even the controls on the steering column are opposite of the vehicles sold here in the United States. I cracked-up every time Jeff reached to flick on the turn signal and we got the windshield wiper instead. It was hilarious. Trust me, you get much better at it by day three. Just take it slow and give yourself more distance and time to think about how you're going to execute your next move.
Once you get the hang of it, the New Zealand roadways reward you with good signage and a pothole-free driving experience. You'll find a Norman Rockwell-like countryside; complete with generous views of rolling green hills, dairy cows, herds of sheep and small farm buildings off in the distance. Plus, when heading south from Auckland, there are no toll roads!
We drove for just two hoursand came to our first stop; the town of Hamilton.
Jeff and I love flower gardens and the town of Hamilton has a beautiful Botanical Gardens. You might say Hamilton is "the "World's Fair" of gardening" with styles and designs from countries around the world; Chinese, American, Italian, whimsical…and so much more. The grounds are spread out enough to provide you with a feeling of tranquility at every turn. It has wide, park-like paths so there is plenty of room for bicyclists and joggers, as well as the occasional baby stroller.
Refreshed, we then drove on for another 90 minutes to our final destination for the day; Rotorua.
I am convinced that at one time or another, everyone in New Zealand has visited Rotorua. To me, it was the "playground" of the country. There is so much to do in Rotorua; so many choices for activities. Rotorua has a fabled past as the cultural center of the Maori people. But today, Rotorua residents sustain that melting pot "feel" by welcoming Indian, British, Australian and communities. Rotorua felt so harmonious, I thought to myself, "surely this community must have been set up many years ago as an experiment in cultural diversity. And, it turned out to work!
As a Travel Advisor, I strongly recommend you take 4-5 days and experience Rotorua for yourself. The region from Hamilton to Rotorua and back to the Waitomo Caves…offers something fun for everyone. Please check out my additional page for the story of how Rotorua came to be. And, a complete list of all the activities you will find to do here.
But before I move on, I want to talk more about the Maori people.
The Maori people migrated hundreds of years ago over thousands of miles on the Pacific Ocean. culture originated in Malaysia. But, over time tribes of Maori found their way to the Hawaiian Islands, Samoa, the Polynesian islands, New Zealand and Australia. The Maori were prolific hunters and conquerors. Their black tattoo art, savage facial expressions and assorted weaponry came with them when they arrived in New Zealand during the years between 1250 to 1300.
They were battle-hardened but in the 1700's, their spears were no match for the muskets of the British colonists.Tribe chiefs were eventuallyforced to make deals with the settlers just to insure their survival as a race of people. Today, just a few hundred Maori still live in the truly traditional ways of their forefathers. But, their culture remains alive through a New Zealand Conservancy program. New Zealanders that descended from the British Settlers are called Kiwi (after the bird native only to this country).
Kiwi and Maori co-mingle in a peaceful, modern-day society. Their culture and teachings are handed down to younger generations and to visitors through the New Zealand public schools and in ceremonial evenings you can learn about both online or from your New Zealand travel specialist. The Maori are a proud people, eager to share their heritage with you. Kia Ora means Hello and Welcome in Maori.
Learn more about the native Maori people by contacting Mitai Maori Village. Mitai is the name of the tribe that settled in Rotorua and owns the land on which they have a sacred underground spring and a colony of glow worms, that are unique to New Zealand. These two pictures courtesy of www.Mitai.co.nz
The next stop on our journey of the north island of New Zealand was to the popular beach town of Napier. We drove three hours from Rotorua along New Zealand's southeast coast, home of world-renown Hawke's Bay.
Hawke's Bay is New Zealand's oldest and largest sea port. It is the number one employer for the region which includes the 65,000 residents of Napier and the adjacent town called Hastings. Other large employers include the logging/wood processing and the agriculture industries.
The regions warm and predominantly sunny climate make it perfect for growing apples, pears, plums and grapes. This region is responsible for producing nearly 70% of New Zealand's wine. New Zealand wines are shipped the world over. But the story of Napier is quite incredible in its own right.
It was a warm, sunny day on February 3rd, 1931, when without warning, a 7.8 earthquake rocked the town of Napier and the surrounding area. The quake shook for 3 minutes and left the town of then, 18,000 residents…in utter devastation. A 30 square-mile lake adjacent to Napier, at once rose up two meters and drained all its water into the ocean. Fish flapped on the dry lake bed. The town's buildings (which were made of brick) shook wildly and crumbled to the ground.
The ensuing fires raged on for 3 days as gas and water pipes snapped and were rendered useless. One saving grace for the town's people was that the New Zealand naval ship the SS Veronica, was in port that fateful day.
The Veronica used her Morse Code system to radio Naval Headquarters for help, and within 3 hours men and medical equipment were making their first beach landings.Napier was in ruins. (archival picture)
One can only imagine the leadership it must have taken during those first hours and days. The Navy set up a tent camp on the beach. Aftershocks were small and tested their already frayed nerves. But, out of the rubble of what was once an important commercial community came an overwhelming desire to stay and rebuild. The townspeople worked tirelessly. And, within two years-time, Napier was re-dedicated to its township charter.
While highly educated for their day…only now do we realize just how forward-thinking the Napier city planners had been in their rebuilding choices. Brick Victorian architecture had dominated the landscape. The Great Depression weighed heavy on people's minds (as well as their pocket books). The world was ripe for a modern, streamlined and liberating architectural design, and that included the townspeople of Napier. The Art Nuevo style, or Art Deco was born. With this new design, builders could adopt the stronger qualities of reinforced concrete in their construction.
Of course, you will find pockets of Art Deco buildings still standing in many great cities around the world (think of Miami). But nowhere else on earth is it revered and protected as in Napier NZ with the Art Deco Trust. Jeff and I took a fascinating walking tour of Napier as she stands today…and for style and design buffs, this town and the story of how she came to be, are inspiring.
On June 13th, 2018…Jeff and I drove on southward 5 hours to reach the capital city of New Zealand: Wellington.Wellington sits at the bottom of the north island; equidistant to residents of both the north and the south islands. Just like all the places in New Zealand we've visited thus far, Wellington is culturally diverse. Downtown Wellington is a fine example of high-rise living on a small foot-print. Everything is close. Yet, it is home to 400,000 New Zealanders…of all skin tones; white, Asian, Maori and Indian. It felt safe and convivial with more cafes and coffee shops per capita, than NYC.
In Wellington a high percentage of residents walk, bike or take public transit yet it is surprisingly cosmopolitan feeling with a National Museum, boutique-sized Cultural Arts Center.
Jeff and I pre-booked a city "walking and motor coach" tour. It took only two-hour's but we got to see all the highlights of the city including the Oriental Parade, (their name for what we'd call at home the boardwalk). It runs along the sea wall.
Meet "Sam" our delightful Hammonds Tour driver/guide who hails from the town of Nelson on New Zealand's South Island.
Jeff and I took the cable car to the top of the city's tallest hill and had a 360 view of the coastline. Up there you'll find the Botanical Gardens.At the base of the hill is the Te Papa National Museum…both of which are always free to visit, whether you're a resident or a visitor.
At one point we stopped to take pictures at the Beehive Government office building and Old Saint Paul's Church…an Anglican Church that dates back to 1867 made entirely of wood.
Apparently even the British settlers knew wood would hold up much better to the region's earthquakes than brick construction. Back in the 1800's, Wellington city planners felt that having a deep-water port (for the shipping trades) was worth the risk of an earthquake.
Everywhere we walked we experienced a high level of public civility. The cleanliness of the sidewalks made you feel that residents of Welling have a "pride of ownership".
I know the taxes are high here in New Zealand, but (by and large) New Zealanders feel it's a good "return on investment" to live in a progressive, open society where education is free through high school and healthcare is free throughout your life. They like living here and it shows. Auckland and Wellington both were the more business-like (least touristy) of all the places we visited in New Zealand. But, that did not stop them from being polite and making us feel welcome. Even a sandwich board on the sidewalk opposite the bus stop by our hotel said, "Stay hydrated and have a good day!"
Our story is almost complete. Only two days remain of our incredible trip on New Zealand's North Island. But little did I know, my biggest thrill of all, was yet to come!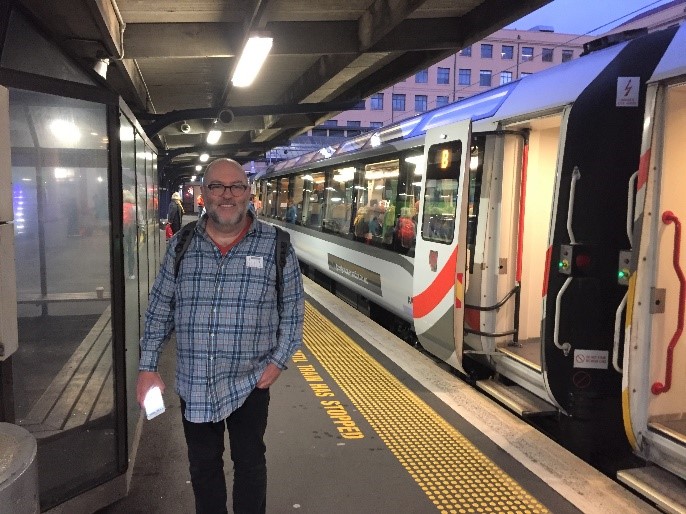 Early on the morning of June 15th, we woke up in Wellington and walked down to the train station to catch the Northern Explorer. 
The Northern Explorer is one of four, long-distance train rides that serve Nz travelers and tourists across various parts of the country. We dropped off our rental car in Wellington and decided to let the Northern Explorer take us back up the long mountainous "spine" of New Zealand's North Island to the city of Auckland, from whence we came.
Did that sound British? New Zealand was rubbing off on me. I've never experienced a more relaxed and hospitable vacation. Our train ride was a nearly-continuous, 9-hour journey through the island's gorgeous interior. The best part wasn't even the narrated video that played on the monitors overhead…it was the open caboose car in the back. You were welcome to move between coupled train cars to the galley in front and the caboose in back. The car was windowless.
You could go back there to get some fresh air and take some great picture of the scenery passing by. Check out this video of the quiet interior of the train car. compared to this one I took from the open car in the back of the train
It was a great ride and we arrived in Auckland before dark and checked-in at the Sky City hotel Italian restaurant for our last supper in New Zealand.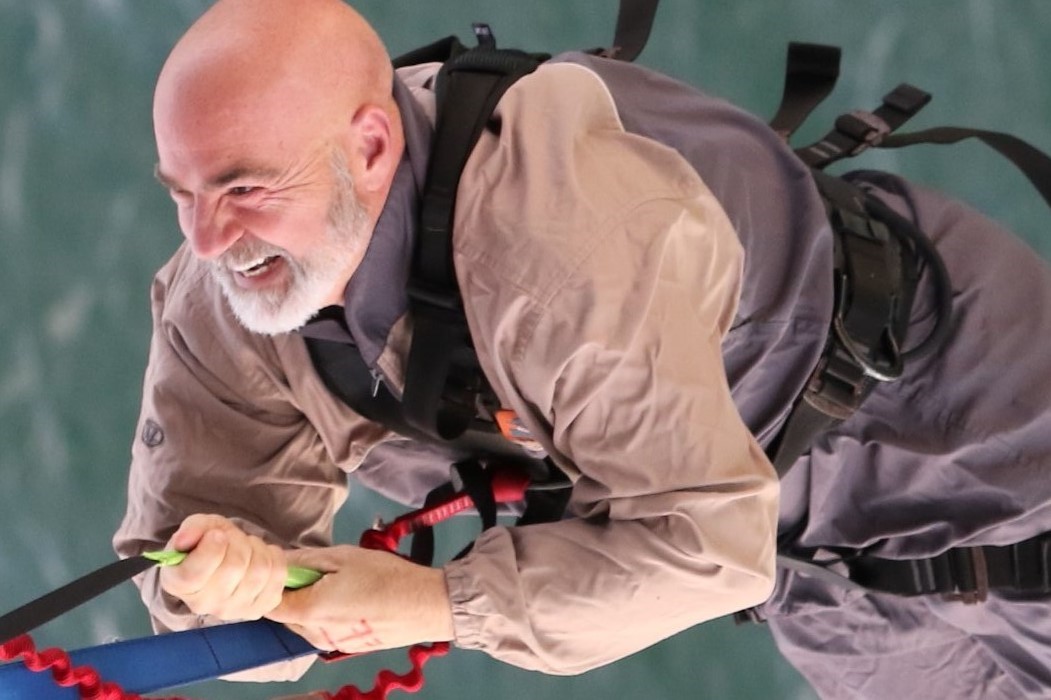 "All of a sudden, we were told to look up…
and there it was, a large glass capsule (like a space ship) welded neatly under the traffic lanes of the bridge. I think the look on my face (in both these pictures) gets the "last word" on this trip. I'll never forget my first trip to New Zealand!".
~STEVE LORD
Steve Lord
Travel Advisor & Blogger
We're in Good Company!
Check out our ad on Pg. 13 of the January 2019 Edition Bravo…Lakewood Arts & Entertainment Magazine!