Rotorua AKA: "Sulphur City"
"You can't erase a bad vacation! So, let's start out by not having one!"
Rotorua, New Zealand is a "hot bed" (literally) of geo-thermal activity…in a country already well known for its earthquakes and volcanic activity. Located 140 miles south of Auckland, Rotorua (and the surrounding area) are home to 60,000 full-time residents and a major destination for both domestic and international tourists. The area is rich with lakes and fertile soil. Therefore, it was first settled by the Maori people in the 1400's. If you're going to have a Maori Cultural experience, chances are likely, it will happen in Rotorua or the surrounding area.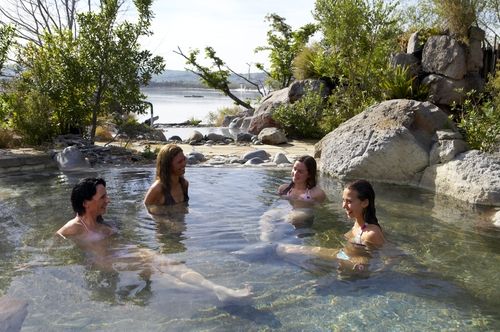 "With geysers, bubbling mud pools, and natural hot springs,
thermal activity is at the heart of much of Rotorua's tourist appeal. A common nickname for Rotorua is "Sulphur City" due to the hydrogen sulfide emissions, which gives the city a smell similar to "rotten eggs". It's eerie to see steam rising up from the back yards of homes in town, but Rotorua is built right in the Caldera of the 1886 eruption of Mount. Tarawera. Here's Jeff with our helicopter pilot. There are 17 lakes in all so fishing, waterskiing, and house-boating are popular during the Summer months."
Jeff and I stayed two nights at the Regent hotel in downtown Rotorua and I grabbed as many different activity brochures as I could find. I mentioned the Botanical Gardens at Hamilton…Rotorua has one also. Plus there's the Hobbiton movie set where Lord of the Rings was filmed. There are hundreds of hiking and biking trails, not to mention white-water rafting. You can soar high above the city on a scenic gondola ride. There's Hell's Gate geothermal park, admission to the Buried Village of Te Wairoa and Ogo Ball-Rolling.
Don't forget the Gloworm Caves of Waitomo, a unique geological wonder of the region.
~Steve Lord
Steve Lord
Travel Advisor & Blogger
We're in Good Company!
Check out our ad on Pg. 13 of the January 2019 Edition Bravo…Lakewood Arts & Entertainment Magazine!